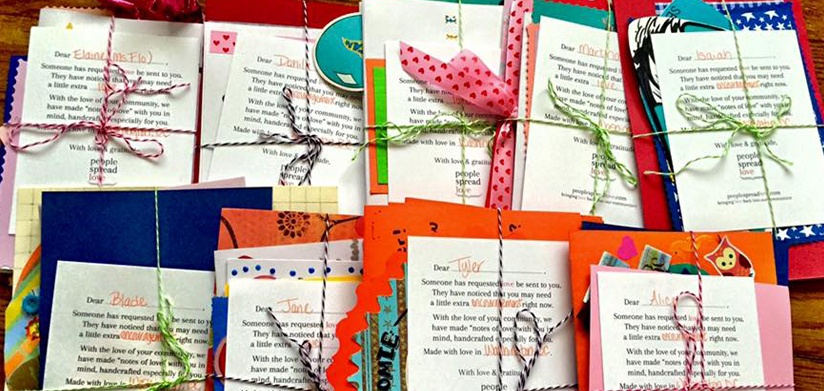 in the news
Newspaper articles and blog posts written about People Spread Love's initiatives.


November 6, 2017
Cookie Kindness
by Susan Thompson-Gaines // Kindness Activist

June 14, 2017
Teton Pride Picnic Celebrates Love
by Leonor Grave // Jackson Hole News & Guide

February 2, 2017
KHOL 89.1 interviews Heather DeVine about People Spread Love
Recorded, Interviewed & Edited by Brennan Hussey // KHOL 89.1
January 11, 2017
Downtown Denver employees help spread a little love
by David Rupert // Western World - USPS Newsletter
December 16, 2016
Locals Show Some Love to Those Who Plow Our Streets
by Jim Thompson // Buckrail
July 20, 2016
The Buzz 2: Hug It Out
by Meg Daly // Planet Jackson Hole
July 18, 2016
Free Hugs on the Town Square
Photo by Ryan Dorgan // Jackson Hole News & Guide
June 22, 2016
Teton County celebrates pride
by John Spina // Jackson Hole News & Guide

June 14, 2016
Teton Pride Picnic to include commemoration for those impacted by Orlando mass shooting
Buckrail

May 10, 2016
Local attorney helps inmates spread love
by Jill Thompson // Buckrail

May 2, 2016
'We are mighty in numbers;' Heather DeVine rallies communities to Spread Love'
by Jill Thompson // Buckrail

Feb 3, 2016 How to Spread Love
Teton Spirit Connection

Jan 20, 2016
To a person who needs love
by Johanna Love // Jackson Hole News & Guide
---
We'd love to hear from those that want to help start spreading love in our communities.
Check out how you can Begin PSL in your community.
bringing love back into our communities.
hello@peoplespreadlove.com | 804.380.6728
facebook | instagram | twitter | tumblr | pinterest | youtube | #peoplespreadlove
---